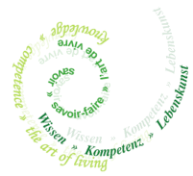 From knowledge to competence
to the art of living
Supporting research writing in English for crisscross scholars:
those who work in more than one language, culture, field, or country
academic writing coach, instructive editor, and instructor
The art of mastering academic writing in English goes beyond basic knowledge and competence to the art of living in the language. Mastering written academic English will allow you as a crisscross scholar to communicate with ease in professional and private situations, understanding and using nuanced expressions and social conventions. As a master of written academic English, you will learn to feel confident when expressing yourself at any level.
With American English as my mother tongue and German and French as working languages, I am pleased to provide a learning environment in which you can practice your English-language research writing skills in such a way that they become part of your personal art of living and enable you to enjoy the benefits of becoming a master of written academic English.
Academic English services and fees
From professional emails to scientific research, I can help you express your thoughts, intentions, and meaning to English-speaking academic readers.
Based in Yvonand, Switzerland, I offer my services in person as well as online using Zoom or Skype.